SCOTTSDALE, Ariz. - I've driven down Sunset Boulevard in a metallic plum-colored Prowler, getting more looks and waves than the Rose parade. Then a year later I repeated the trip with a screaming yellow version in this trendy desert town. Same reaction.
Plymouth has developed a great antidote for mid-life crisis. But can the world's first "factory-built" hot rod breathe new life into a brand that Chrysler was ready to abandon just a few years ago?
Unfortunately the answer was no, and the brand is slated for oblivion next year. At first the Prowler was going into the automotive dustbin, too, but demand has caused the axe wielders to pause in the down stroke. Now it will continue as a Chrysler, and those with one badge or the other are bound to become more collectible.
Instant collector's item?
The Prowler made its debut as a 1993 concept car. The two-seater captured the excitement of the great classic hot rods, and proved so popular that Chrysler was inspired to put the car into production as a low-volume showpiece.
For 1999, new features included a new all-aluminum, 253-horsepower, 3.5-liter V-6 engine; it has 39 more horsepower than the cast-iron engine in the 1997 Prowler. That year the Prowler also featured a new on-off switch for the passenger airbag, improved window switch gear and enhanced speaker cover treatments for the Prowler's "boom box" speakers. (If someone offers you a 1998 Prowler, politely decline, as the car skipped a year in its evolution, a combination of marketing and government regulatory shuffling.)
For 2000, the only change is the availability of a new color, silver, in the Prowler's palette, plus some minor interior improvements and some suspension refinement. Purple, you'll remember, was the first hue; a second color, yellow, was offered starting in mid-1999, followed by red and black later in the year, run down the line in batches. Other colors include a red and black two-tone special Woodward Dream Cruise edition.
Nose first
Chrysler's styling studios have become known for some of the auto industry's most innovative designs, and the innovatively retro Prowler is bound to become one of their hallmarks. Take a touch of Ford's '34 roadster. Add the radiator cowl and a few features of the classic Indianapolis championship cars. Spend a few weeks reading 50's issues of Hot Rod and Car Craft. Then wrap it up with high tech features stolen from racecars and the aerospace industry. You wind up ready to recreate the movies that made James Dean and Marlon Brando household names.
Its broad rear tapers to a narrow nose, and the low profile front tires are set more than a foot outside the body with all the springs and shocks buried in the narrow nose. If it were not for the government mandated front bumpers (true 5-mph protection), the Prowler's front end would be as clean as an Indy car's. In order to improve the balance, the transaxle is shifted to the rear with a short engine speed driveshaft in between - just like Ferraris and the new Corvette.
As a result, Prowler is just about the only hot rod with independent suspension. Some writers have niggled about the 1997 V-6's inability to chirp the fat rear tires. The new engine will please them. I spent enough time running twisty mountain roads and proving ground skid pads to properly appreciate the balance and road holding these sticky tires and this layout produces.
Underneath the skin, the Plymouth Prowler is a "rolling test bed," designed to prove a variety of new materials and techniques. The drive-train and suspension layouts are stolen from racecar engineering parts bins. All the bodywork is bonded aluminum, and when Chrysler added its new line of engines, this lightweight metal came to dominate the vehicle. Even the rear disk brakes are constructed of an aluminum matrix composite. Only a few limited-production cars use such exotic, weight-saving features.
The tires are well worth touting. Chrysler engineers worked with Goodyear to develop a customized "run flat" tire which can keep going for up to 50 miles, yet still maintain sports car handling. There's no place for a spare tire - there's barely room for a briefcase and a folding garment bag in what passes for a trunk.
I recently traveled around Southern California over the Christmas week, and had packed for the Prowler and had no problems. I even had chosen my Christmas gifts according to my transport, and everything fit under the trunk lid. Unfortunately, my friends and family did not, and their gifts to me were often a challenge to pack. If a cross country lifestyle is a must, Plymouth will supply a trailer styled and painted to match your car.
The top is ample protection for the elements and has no rattles or squeaks, but wide tires and rear drive will keep most Prowlers in garages during the nasty times. Even so, its top is snug in spring showers, although it sacrifices vision to styling. Still, it has a heated glass rear window to help prevent misting and preserve that limited vision.
At $43,725, the Prowler includes a long list of standard features, such as dual airbags, air conditioning, power windows and door locks, a 320-watt Infinity stereo system with compact disc player and a fully retractable convertible top. It also includes the ability to induce hypnosis in other folks on the road. Exercise your power carefully.
2000 Plymouth Prowler
Base Price: $43,725
Engine: 3.5-liter V-6, 253 hp
Transmission: four-speed automatic with AutoStick control
Wheelbase: 113.3 in
Length: 165.3 in
Width: 76.5 in
Height: 50.9 in
Weight: 2838 lb
Fuel economy: 17 city/ 23 hwy
Major standard equipment:
Dual airbags
Air conditioning
Power windows and door locks
Infinity 320-watt stereo system with compact disc player
Retractable convertible top
A Canadian Perspective:
Test Drive: 2000 Plymouth Prowler


Now into its fourth model year, the 2000 Prowler has new Goodyear runflat tires, a recalibrated suspension, auto-dimming rearview mirror, and speed-dependent stereo volume. Prowlers have the same 253 horsepower 3.5 litre V6 engine engine used in the Chrysler LHS and 300M, and a 4-speed automatic 'AutoStick' transmission mounted at the rear for better weight distribution.

Chrysler's tribute to the hot rod still turns heads
by Greg Wilson is a Vancouver-based automotive journalist and editor of CanadianDriver

The Plymouth Prowler was first introduced as a concept car at the 1993 North American International Auto Show in Detroit. Reaction to it, as you can imagine, was a mixture of surprise and amazement. No one expected a major car manufacturer to produce a limited-production retro-styled hot-rod. The Prowler was given the Plymouth nameplate to help boost that brand's image, which it did - but not enough to save the Plymouth brand which is to be discontinued next year.
As the initial public reaction to the Prowler was overwhelmingly positive, Chrysler built a production version using the 1993 Dodge Intrepid platform with rear-wheel-drive. It was unveiled at the 1996 Detroit car show, and production began in July of 1997 at the Conner Avenue Assembly Plant in Detroit (where the Dodge Viper is also built). The first Prowlers reached Canada late in 1997.

Since it was produced in limited numbers and was so popular, the 1997 Prowler often sold for thousands of dollars over the original suggested retail price of $52,100.

The Prowler skipped the 1998 model year, but the 1997 model continued in production until a revised 1999 model came along. While the 1997 Prowler had the same 214 horsepower 3.5 litre SOHC 24 valve V6 engine offered in the uplevel Chrysler Intrepid and Concorde, the 1999 Prowler switched to a new, all-aluminum 253 horsepower 3.5 litre SOHC 24 valve V6, the same engine used in the recently-redesigned LHS and 300M.

In addition, 1999 Prowler's added de-powered airbags with a passenger-side cutoff switch, an 'express-down' driver's-side power window, and illuminated power window switches.

Some Changes for 2000

For model year 2000, Prowlers receive new Goodyear Eagle GSD EMT runflat tires designed specifically for the Prowler. They have a stickier front tire compound for improved grip but they are heavier than standard tires. To improve the Prowler's ride, 2000 models have recalibrated Koni shocks, reduced spring rates, and new ball joints in the rear suspension lateral links.

Interior changes for 2000 include an automatic, speed-dependent stereo volume control, a new mute switch, and a leather shift boot. A new 'electrochromic' rearview mirror automatically dims at night to reduce glare, and the mirror includes a built in compass, outside temperature reading, and mini trip computer.

Originally, Prowler's came in any colour you wanted as long as it was 'Prowler Purple'. This year, there are three colours, 'Prowler Silver Metallic', 'Prowler Black' and 'Prowler Red'.

Outrageous Styling

From just about any angle, the Prowler's wild styling is a feast for the eyes. Its tapered body and exposed front tires and wheels mimic the original 'fenderless' Ford and Chevy coupes of the 40's and 50's. To prevent wheel spray, the Prowler has small, front fenders that turn with the tires. Like early hot rods, the front tires and wheels are smaller than the rear tires and wheels - although it should be mentioned that the original hot-rods never had low-profile, high-speed, run-flat tires. The Prowler's front tires are P225/45HR-17 inch, and the rears are P295/40HR-20 inch mounted on five-spoke silver, or optional chrome alloy wheels.

Rather than the separate headlamps common to hot-rods of the 40's and 50's, the Prowler has smaller projector beam headlamps under plastic covers cleverly integrated into the body behind the grille. The rear of the Prowler appears extremely wide and high, accented by wide rear tires and separate fenders, and twin exhaust pipes with chrome tips.

A common criticism of the Prowler's styling are the large, protruding front bumpers. They're necessary to meet 5 mph bumper standards and crash standards. Personally, I don't find them offensive. The designers did a good job of making them look as inconspicuous as possible.

Well-Equipped Interior But Tiny Trunk

Inside the car, most of the instruments are positioned in the centre of the dashboard, including a large speedometer flanked by oil pressure, voltmeter, fuel and coolant gauges. The tachometer is positioned on the steering column just behind the steering wheel - just like they used to be on souped-up rods of yesteryear.

The rest of the interior is contemporary in design and very well-equipped. Standard equipment includes leather seats, air conditioning, AM/FM/cassette and a 6-disc CD changer with seven speakers, remote keyless entry, cruise control and power door locks. For safety, the Prowler has three-point seatbelts and dual airbags - the passenger side airbag has a key-operated cutoff switch. However, the Prowler doesn't have a rollover bar or roll hoops.

The black convertible top is manually-operated, and folds down into a cavity behind the seats under a plastic boot cover. It's easy to do, but you have to get out of the car to raise and lower the top.

As far as storage space, the Prowler is probably the most impractical vehicle I've ever tested. Interior storage room is limited to a small, centre storage bin and a seatback map pocket, but there's no glove box or door pockets. The Prowler has the smallest, shallowest trunk I've ever seen - a measly 1.8 cubic feet - not even enough room for an overnight bag.

Perhaps that's why Chrysler recently unveiled a modified version of the Prowler called the 'Howler' at the SEMA (Specialty Equipment Marketing Association) trade show in Las Vegas. The Howler is a Prowler with a taller, longer tail and a usable trunk.

Another option is a special Prowler trailer which looks exactly like the Prowler from the rear.

Retro-look But High-tech Construction

Though it looks like it belongs in the 50's, the Prowler is built using sophisticated 90's technology. Extensive use of lightweight, rust-free aluminum includes a bonded and riveted aluminum frame, aluminum suspension components, aluminum engine, and some aluminum body panels (hood, doors, deck lid, and front side panels). The remaining body panels are a composite plastic material. A structural cross-member behind the instrument panel is made of magnesium.

Unlike early hot-rods which had solid front and rear axles, the Prowler has a fully independent suspension, including front double 'A' arm suspension with inboard-mounted spring and shock assembly, and rear an independent four-link setup. Four vented disc brakes with ABS are standard equipment.

The standard power plant is the 3.5 litre SOHC 24 valve V6 engine that also powers the Chrysler LHS and 300M models. This all-aluminum engine develops 253 horsepower at 6,400 rpm (39 more than the previous 3.5 litre engine) and 255 foot pounds of torque at 3,950 rpm.

The Prowler is not available with a manual transmission, but it does offer Chrysler's four-speed automatic 'AutoStick' transmission which allows both automatic or sequential manual shifting. To shift manually, the driver places the floor-mounted stick shift in the last gate, and pushes the lever right to change up and left to change down. If the driver fails to shift before the engine redline, the AutoStick transmission will shift automatically. To improve vehicle weight distribution, the AutoStick transaxle is mounted at the rear of the car.

A Whole Lotta Shakin' Goin' On

Though the Prowler looks like a cross between a hot-rod and a race-car, it's not a handling machine. The Prowler's wide track and super-wide, sticky tires provide excellent grip on smooth surfaces, but its unforgiving suspension and considerable body flex upset its balance when any small bump is encountered. In fact, the whole body shakes alarmingly when traveling over larger bumps, and from the driver's seat, is rather disconcerting.

In true hot-rod tradition, the Prowler's straight-line acceleration is very quick, in part because the Prowler weighs just 1287 kg (2838 lb). However, the transmission, in automatic mode, 'bumps' when it changes gears - I don't know why because this same transmission is very smooth on other Chrysler vehicles. In manual mode, the AutoStick transmission allows manual shifting, but there's a slight delay in the actuation.

Braking is excellent, as you would expect in a lightweight vehicle with four wheel disc brakes, and the power-assisted steering has good feel and responsiveness.

Wind buffeting with the top down is minimal due to a well-raked windshield and fairly high door sides. With the top up, visibility to the rear is impaired, but the top is well-sealed against the elements. In any event, the Prowler is more of a summer car - I don't even know if you could get 20 inch snow tires...

MSRP of $61,000

The Manufacturer's Suggested Retail Price for the 2000 Prowler is $61,000, up from $55,000 in 1999. Plus, there's a $1400 delivery charge. In some areas, you might find dealers asking more than that because the Prowler is a limited production specialty car in high demand. In calendar year 1998, only 146 Prowlers were sold in Canada, and in 1999, 88 have been sold to date. Worldwide production output for the 1999 model year was only about 5000 units.

Still, with its high resale value, the Prowler might be a good investment, and one with which you can have a lot of fun.

Technical Data: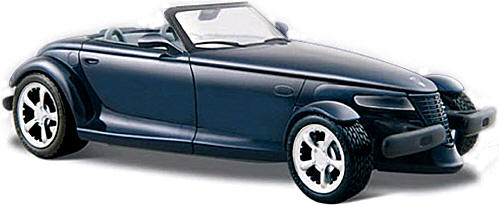 2000 Plymouth Prowler
Base price
$61,000 CD
Freight
$1,400
Type
2 passenger, 2-door convertible
Layout
longitudinal front engine/rear-wheel-drive
Engine
3.5 litre V6, SOHC, 24 valve
Horsepower
253 @ 6400 rpm
Torque
255 @ 3950 rpm
Transmission
4-speed automatic 'AutoStick'
Tires
Front P225/45HR-17; Rear P295/40HR-20
Curb weight
1287 kg (2838 lb.)
Wheelbase
2877 mm (113.3 in.)
Length
4199 mm (165.3 in.)
Width
1943 mm (76.5 in.)
Height
1292 mm (50.9 in.)
Trunk capacity
51 litres (1.8 cu. ft.)
Fuel consumption
City: 13.8 l/100 km (20 mpg)
Hwy: 9.4 l/100 km (30 mpg)
Warranty
3 yrs/60,000 kms