1997 Plymouth Prowler Development
For sheer impact, though, nothing could match the 1997 Prowler, the most-exciting Plymouth in a generation. It was unlike anything ever offered by a mainstream automaker, being a modern reincarnation of the iconic American hot rod.

Like the Dodge Viper before it, Prowler began as a concept, premiering at the 1993 Detroit Auto Show amid rabid pleas to "Build it!" Once more, Chrysler president Bob Lutz gave his full endorsement to a fairly outrageous automobile aimed squarely at car buffs like himself.

Again sharing his enthusiasm were design chief Tom Gale, long an active hot rod hobbyist, and Advanced Design director Neil Walling, who oversaw the concept's development from an idea suggested by a staffer at the company's California design outpost, Chrysler Pacifica.

Though hardly the sort of car expected of a "value brand," Prowler promised to do for Plymouth what Viper had for Dodge -- namely, get people talking and change their minds. Indeed, Chrysler viewed its two-seat retro roadster has having just the right "shock value" for resuscitating Plymouth's moribund image and low "brand awareness" among consumers.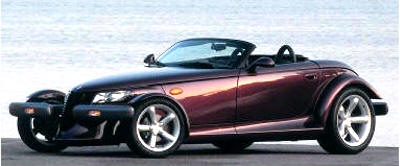 The 1997 Plymouth Prowler was a crowd-pleasing hot-rod.
There was high-tech seriousness beneath the hot-rod fun, as Prowler became Chrysler's low-volume laboratory for nontraditional construction and materials. For example, aluminum was used not only for an all-independent suspension but the entire chassis and much of the body. In fact, Prowler packed more aluminum than any car in Chrysler history -- some 900 pounds of it -- construction rivaled only by the exotic Honda-built Acura NSX sports car. The result was a lean machine with about the same length as a Porsche 911 but weighing well under 2900 pounds.

Other weight-watching measures included a lateral dashboard brace made of costly magnesium, the industry's first cast aluminum brake rotors (rear only; front discs were iron Voyager parts), and plastic-like sheet molding to shape the quarter panels, vintage cycle-type front fenders, and a pointy nose skimming just 4.5 inches above the pavement.
Helped by a raked-forward profile and broad 76.5-inch beam, the Prowler turned heads like nothing else on the street. The only changes from the stunning concept were more prominent front "bumperettes" and headlights, both to satisfy the feds. Wheels were handsome five-spoke alloys measuring 1737.5 inches fore and a massive 20310 aft, and you could have any color at first so long as it was vivid Prowler Purple. The manual top, a black fabric affair, stowed easily beneath a rear-hinged trunklid -- and most always was. Prowler, after all, was about lookin' good. There was no room for introverts.
Or much of anything else. The front-tapering '30s-style body left footwells uncomfortably narrow (though wider than on the concept). Standard run-flat tires eliminated the need for a spare, but the trunk was nearly useless, squeezed from below by the fuel tank (itself laughably small at 12 gallons) and a rear transaxle, also new for Chrysler. The latter contributed to front/rear weight distribution of 45/55 percent, making Prowler quite nimble on dry roads despite a long 113-inch wheelbase. And for times when you had to carry more than a couple of pizzas, Chrysler offered a small accessory trailer, shaped like the tail, for about five-grand.

But the fat tires with their ultra stiff sidewalls "find every bump," as Car and Driver noted, and could be way too slippery in the rain. And like Viper, antilock brakes and traction control weren't available, yet a number of luxuries were standard: air conditioning, power windows and mirrors, leather upholstery, high-power sound system, even a gee-whiz tire-pressure monitor.
Hot-rod purists also shook their heads at Prowler's powertrain: a 3.5-liter V-6 sending a modest 214 bhp through a four-speed automatic transmission. Like much of the interior, these were off-the- shelf components used to keep price reasonable, which it was at an initial $38,300. Yet despite that, the low weight and standard AutoStick manual-shift feature, Prowler was nowhere near as fast as it looked. Car and Driver's results were typical: 0-60 in 7 seconds flat, a standing quarter-mile of 15.6 at 87 mph -- pretty tame.
Overall, C/D viewed Prowler as "awash in contradictions. Hot rods have V-8s and manual gearboxes. The Prowler offers neither. Hot rods are supposed to ride badly and handle badly, then set fire to the dragstrip. Instead, the Prowler handles almost like a sports car but is a relative flatliner on the drag­strip. Hot rods are supposed to have individualized exteriors …[not] one level of trim. Hot rods customarily sport spartan, handmade interiors. The Prowler's is more plush and option laden than a BMW Z3's."

On the other hand, "It's a convertible, the drivetrain is dead reliable, it can be driven [every day] as long as there's no snow, there's a three-year/36,000-mile warranty, and the vehicle regularly twists the needle right off … the gawk meter."
Predictably, Chrysler's latest piece of eye candy was always in short supply. Though the long wait from concept to reality stoked demand to a fever pitch, Chrysler wouldn't rush. After all, Prowler was Plymouth's important new image-leader, and thus needed to be well-made and glitch-free from day one. Besides, why risk diluting the car's mystique -- and driving down resale values -- by building too many too fast? All this echoed Viper experience, and Chrysler sensibly assigned Prowler production to the Viper plant on Detroit's Conner Avenue, which was geared to build semicustom machines at a measured pace with considerable hand labor.
As it happened, though, Prowlers didn't begin reaching dealers until August 1997, delayed by last-minute production glitches. As a result, model-year output was only 312 units instead of the 2000-3000 planned, and a bidding war broke out among would-be owners.