<![if !vml]>

<![endif]>
Phone: 352 688 8160 M-F EST
PROWLER 6-pc FRONT CONTROL A-ARM Kit©
PART # ACC-822025 Generation 2 - INSTALLATION INSTRUCTIONS
Parts Included: 2 x Large A Arm Covers L & R; 2 x Small A-Arm Covers L & R; 4 x Stainless steel Slit Tubes; 2 x Chrome Vinyl Molding Strips, 1 x Packet or pen of Promoter and 1 x Tube of Clear Silicone.
IMPORTANT: Read ALL instructions first before starting. All Metal Pieces have a clear protective liner do not remove until installation is complete.

Before permanently mounting check the fit of the upper and lower A-Arm Covers. If you choose you may mould or slightly bend covers by hand in order to achieve a custom fit. Once installed the A-Arm covers will have about 1/4 inch gap along each edge. For specific engineering reasons it is not designed to fit snug.
1. Before you begin installation of the Upper A-Arm cover you must first apply the Chrome Trim Strip (provided) to the Inner Side of the actual A-Arm itself. See image below with yellow arrows.
First clean the area with Rubbing Alcohol thoroughly.
Next, apply a swipe of Adhesive Promoter (Small foil packet provided) where you are going to mount the vinyl molding. Then simply get the Chrome Trim Strip ready to stick on by removing the red release liner from the back of the Strip. Now mount inside the Top Inner A-Arm. Then press it firmly in place. Make sure that the top of the Trim Strip is flush with the top of the A-Arm (parallel to the ground). You don't want to mount the chrome molding strip to high where it might interfere with the A-Arm cover once you mount it on top. This vinyl molding will create a nice chrome finish to the Inner Side of the A-Arm. Do this to the TOP only A-Arm on each side of car.

.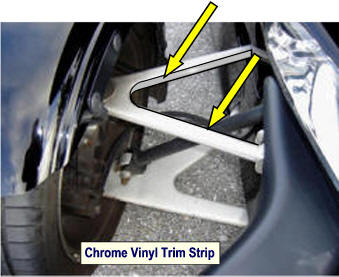 2. Thoroughly clean A-Arms with soap and water to remove any dirt and grime then scrub everything down with rubbing alcohol. Let dry and then wipe off any and all residues with a clean cloth.
Start with the Lower A-Arm Covers: Your new covers are designed to set into position - although depending on the Prowler and the individual part the fit will be a little loose. There is no problem with this – simply center the piece on the A-Arm. As mentioned before there will be a small gap between the edge of the cover and the A-Arm itself.
Copyright 2005 - 2023

TheProwlerStore.com is a Hot Car Accessories, Inc. site

Copyright 2005 - 2023
Not affiliated with Chrysler Corporation or it's divisions.