Product Number
Prowler Product Name & Description
Prowler Product Photos
(For additional photos of products Click on Photo)
Unit/set Price
Shipping within Continental USA
AZ-
4819
& AZ-
4817
Chrysler/Plymouth Prowle
r 1997-2002
Ultra High Performance Bosch Windshield Wiper Blades
- Set of 2
Custom fit for the Prowler this is the wiper to get for best performance.
Exclusive Quiet-Glide™ micro-finish wiping edge delivers a cleaner wipe and quieter operation. 17" and 19" set of blades.
Exclusive fx dual rubber compound reduces chatter, provides superior wiping performance and provides longer life.
Exclusive fully-enclosed metal tension spring delivers more direct pressure to the wiping edge for improved moisture removal and reduced streaking.

Aerodynamic all-steel frame maintains blade contact at all speeds and delivers superior corrosion resistance with a zinc dichromate primer
DirectConnect™ one-step installation system installs easily with no adapters required for over 90% of vehicle applications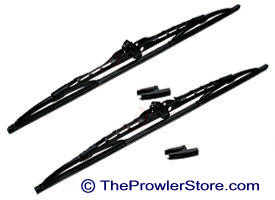 Set of two (2) wiper arms and blades
(17" + 19")

$ 64.95 set of 2

15% Restock Fee on Returns
Return Policy
1-2 Week Delivery
If you are having trouble ordering online: Please call us at 352 688 8160
$ 16.95





We welcome our many Overseas Customers!
More Shipping Info
Click Here


CK-CSSZ65-PM5032-NL
Chrysler/Plymouth Prowle
r 1997-2002
- Custom Fit Windshield Sun Shield - Blocker

High Tech Cooling - Highest Quality!
Custom fit for the Chrysler/Plymouth Prowler Windshield.
Made from high-density foam, this material is laminated between two Mylar layers to produce the ultimate in-protection. The outer Mylar layer is aluminized to reflect UV rays, while the inner layer adds toughness and provides protection to the middle foam layer. These three special layers of reflective Mylar foam combine to provide the best insulation against heat and UV rays. This Coverking Custom Sunshield is completed with a black-felt edging.
Moisture vapor will not get trapped under the sunshield as our shields are highly breathable. The inner layer softly caresses your windshield without scratching the contours. Plus, our Sunshield is eco-friendly as well as hypo-allergenic. Easy to store and clean, our Sunshields are installed with no effort and are guaranteed for one year.
Fits all years Prowler.

Really makes a difference.
Protect your Interior - Keep it COOL!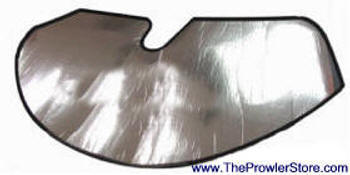 Custom fit to the Chrysler/Plymouth Prowler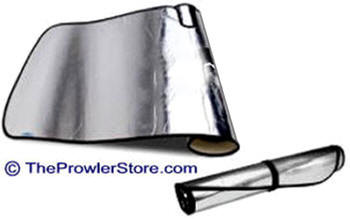 Reflective Silver

$ 44.95

Special order item
Not refundable
Custom design
2-3 week delivery
If you are having trouble ordering online: Please call us at 352 688 8160
$ 17.95



We welcome our many Overseas Customers!
More Shipping Info
Click Here