<![if !vml]>

<![endif]>
Fax: 352 688 8160
Prowler High Polished Stainless Steel Water Tank Cover©
PART# ACC-823012
INSTALLATION INSTRUCTIONS
Included: 1 x Stainless steel Water Tank Cover, 1 x Small Plastic Spacer, 1 x Chrome Cap

In order to enjoy your new cover some minor modifications will need to be done which will straighten the tank and trim it down so that your new cover will fit nice and easy.
Remove the two bolts securing the water tank to the inner fender. You have been provided with a small plastic spacer. Place this spacer between the tank and fender at the bottom hole and re-bolt the tank. This step forces the tank to sit straight.
The next step is to trim the excess plastic from the tank. You will notice that there is a very large swell from the tank to the upper bolt. This plastic is very soft and will trim away like butter. Simply trim using a common utility knife a small sliver at a time until it becomes flush with the top of the tank. This will allow the new cover to sit nice and flat.
Once you have made the twp adjustments simply place the new cover over the water tank and slide it down over the tank neck allowing the side to slip between the tank and the fender.

CARE AND MAINTENANCE:
Note: Care must be taken when cleaning your cover. It is a good idea to lightly dust your cover with a clean soft cloth first in order to prevent any particles from scratching it. Then wipe (using a new clean soft cloth) with a good quality streak free glass cleaner.

<![if !vml]>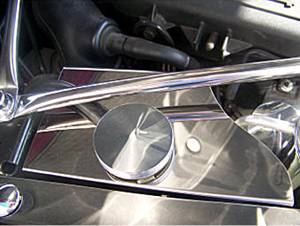 <![endif]> <![if !vml]>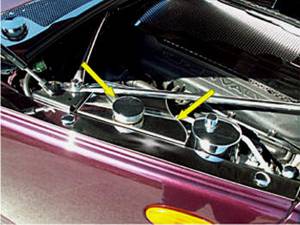 <![endif]>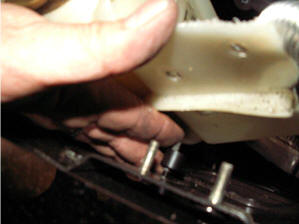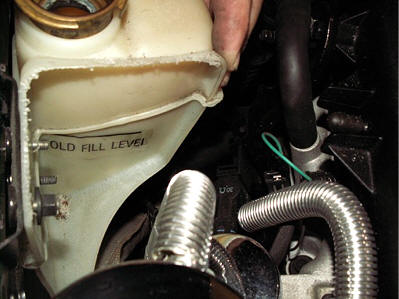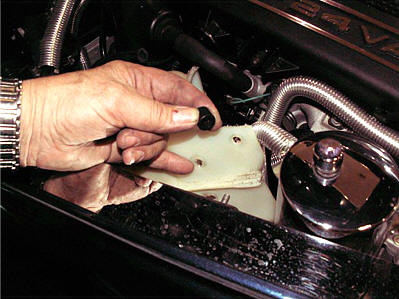 Cut plastic bracket off plastic water tank Insert spacer on bottom screw of water tank
Questions? Please contact: admin@TheProwlerStore.com
TheProwlerStore.com is a Hot Car Accessories, Inc. site

Copyright 2005 - 2022
Not affiliated with Chrysler Corporation or it's divisions.