<![if !vml]>

<![endif]>
Phone: 352 688 8160 M-F EST
Prowler Nose Chin Scratch Guard©
PART# ACC-822027

INSTALLATION INSTRUCTIONS
Included: 1 x Stainless Steel Chin Guard Plate with 1 x Tension Spacer bar attached, 2 x Washer head screws attached.

1. Your new chin guard is a unique accessory designed to protect the front underside of your Prowlers nose from low lying road obstructions, parking lot curbs etc.
2 Jack-up the front of your Prowler and lower it atop a pair of jack stands for safety.
3. Remove the two (2) bolts securing the body bracket just under the battery area.
4. Your new chin guard comes to you assembled with a bracket. This bracket has been shaped to lie over the body ridge in the nose area and clamp the nose to the chin guard.
Disassemble the chin guard making sure you keep in mind which is the right side up for the bracket and then place the chin guard in position as you replace the two bolts removed earlier. Do not tighten these bolts just yet.
5. Place the bracket right side up into the nose of the body and thumb the two long washer head screws into the bracket to get the chin guard assembled.

6. Firmly push the chin guard upward into final position making sure that it is nice and straight and secure the two washer head screws. Then the two factory bolts to finish the installation. Lower the vehicle.

<![if !vml]>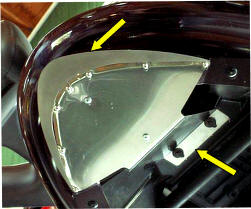 <![endif]> <![if !vml]>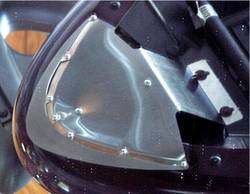 <![endif]>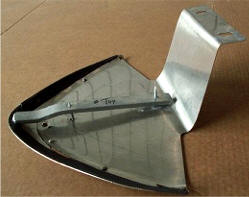 <![if !vml]>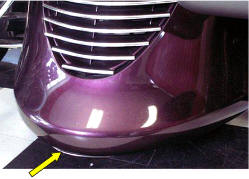 <![endif]>

Questions: Please contact us at admin@TheProwlerStore.com
TheProwlerStore.com is a Hot Car Accessories, Inc. site

Copyright 2005 - 2023
Not affiliated with Chrysler Corporation or it's divisions.