<![if !vml]>

<![endif]>
13721 Spring Hill Dr., Spring Hill, FL 34611
Phone: 352 688 8160 M-F EST

PROWLER REAR ROLL PAN©
PART# ACC-822003
INSTALLATION INSTRUCTIONS

NOTE A: YOUR NEW STAINLESS ROLL PAN COMES TO YOU WITH A PROTECTIVE LINER. DO NOT REMOVE LINER UNTIL INSTALLATION IS COMPLETE.
NOTE B: THIS INSTALLATION REQUIRES TWO PEOPLE IN ORDER TO PROPERLY INSTALL WITHOUT SCRATCHING THE EXHAUST OR VEHICLE.
Remove the two left and right washer nuts in the rear your Prowler, just under and behind the rear bumper aluminum support bracket. Add the two outer-nuts just under the frame and set aside.
With two people, one on either side of your new roll pan, carefully squeeze the roll pan so that you can slide it between the exhaust tips.
Pull the license plate body section out with some force and manipulate the roll pan so that it slides up and into position as you work the pan over the two bolts you previously exposed. Then thumb the two factory washer nuts back onto the two bolts but DO NOT tighten.
Force the two under tabs of the roll pan over the left and right outer bolt studs. Holding the tab in position, thumb on the two stock bolts you removed.
Check overall fit then tighten all four nuts securely and remove the protective liner.
If any questions occur during installation please contact us at: admin@TheProwlerStore.com

CARE AND MAINTENANCE:
Note: Care must be taken when cleaning your cover. It is a good idea to lightly dust your cover with a clean soft cloth first in order to prevent any particles from scratching it.
Then wipe (using a new clean soft cloth) with a good quality streak free glass cleaner.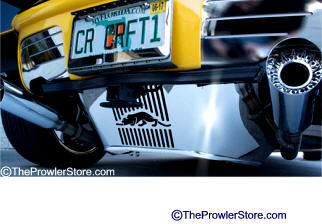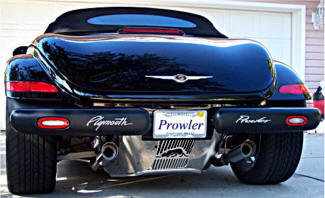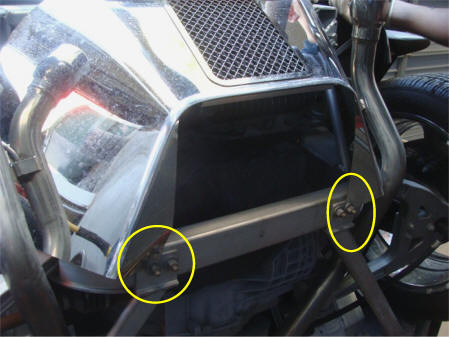 Copyright 2005 - 2021©

TheProwlerStore.com is a Hot Car Accessories, Inc. site

Copyright 2005 - 2021
Not affiliated with Chrysler Corporation or it's divisions.