<![if !vml]>

<![endif]>
Phone: 352 688 8160 M-F EST
Prowler High Polished Stainless Steel Radiator Cover©
PART# ACC-823016
INSTALLATION INSTRUCTIONS
PARTS INCLUDED:
1 x Stainless Radiator Cover
2 x 1/8 Washers
2 x Stainless 6MM Bolts
2 x Flat Washers
4 x Decorative Chrome Caps
Your new cover comes to you with a protective liner do not remove liner until prompted by instructions.
This unique cover offers an all new way to customize an area of your Prowler never before available. Just simply follow the next few steps:
1. Remove the two main bolts securing the engine bay support bars to the factory radiator support and slide them to the sides.
NOTE: These two bolts will be replaced.
2. Place the two 1/8 thick washers over these two bolt holes. Place the new cover over the factory radiator cover and allow the two outer factory nuts to protrude thru the holes in the cover. Remove protective liner.
3. Slide the support bars back into position and secure them in place with the two stainless 6mm bolts and flat washers provided.
4. You have been provided with four decorative chrome caps for each of the four nut & bolt locations. Simply press them in place.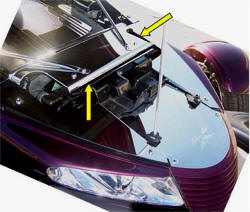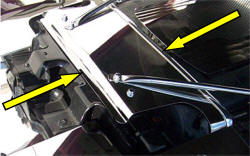 TheProwlerStore.com is a Hot Car Accessories, Inc. site

Copyright 2005 - 2022
Not affiliated with Chrysler Corporation or it's divisions.