<![if !vml]>

<![endif]>
Phone: 352 688 8160 M-F EST
Prowler High Polished Stainless Steel©
POWER STEERING RESERVOIR COVER
PART# ACC-823013
INSTALLATION INSTRUCTIONS
Included: 1 x Stainless Power Steering Cover, 1 x Adhesive Promoter Packet, 1 x Chrome Cap Cover

Your new cover comes to you with a protective liner do not remove until installation is complete.
Remove the cap and thoroughly clean the top of the reservoir with household rubbing alcohol to remove any road grime and dirt. Then swipe once with the adhesive promoter provided.
Place the new cover in position over the fill neck and onto the reservoir to check the fit and also to get acquainted with just how to position the cover.
Once you are satisfied with the fit remove the protective liner from the underside of the unit and press firmly in position to set.
Replace cap.

CARE AND MAINTENANCE:
Note: Care must be taken when cleaning your cover. It is a good idea to lightly dust your cover with a clean soft cloth first in order to prevent any particles from scratching it. Then wipe (using a new clean soft cloth) with a good quality streak free glass cleaner.
<![if !vml]>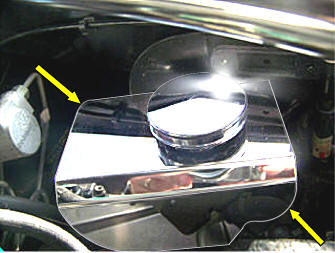 <![endif]>

Questions? Please contact: admin@TheProwlerStore.com



TheProwlerStore.com is a Hot Car Accessories, Inc. site

Copyright 2005 - 2022
Not affiliated with Chrysler Corporation or it's divisions.