<![if !vml]>

<![endif]>
Phone: 352 688 8160 M-F EST
PROWLER 2-pc Inner Fender Covers©
PART# ACC-823002
INSTALLATION INSTRUCTIONS

PARTS INCLUDED: 2 x Stainless Fender Covers, 4 x White Nylon Sockets, 4 x Replacement Screws, 4 x Chrome Cap Covers
DO NOT REMOVE PROTECTIVE LINER UNTIL INSTALLATION IS COMPLETE.
Remove the front screw as well as the rubber grommet towards the rear of the factory fender.




Place the new fender cover in position and loosely fasten using one of the two replacement screws provided. Simply place the screws thru the white nylon socket provided then directly into the front hole exposed earlier. Once you have loosely attached the new cover, position the cover so that it sits nicely along the factory fender so it covers outer ridge.



You will notice a small hole at the rear of the new cover. Drill a 9/64th pilot hole in the plastic at this location and place the remaining screw assembly and snug fasten both screws in place. Be careful NOT to OVER TIGHTEN as this will distort the panel.
Remove protective liner then snap on the chrome caps provided over the screw heads. Repeat this entire process for the opposite side.
SPECIAL ADVANCED INSTALLATION INSTRUCTIONS
Although it is not necessary, it is possible to trim the extrusion surrounding the hole location of the factory grommet removed in step 1. This will create a flush surface in this area allowing the new cover to sit more contoured and flat to the surface. In order to achieve this upgrade you will need to sand the bulge of this extrusion. Because it is a small bulge made of soft plastic it should be very easy to accomplish using a rasp file or you may elect to shave it flush using a utility knife. If you elect to do this do it before installation of both panels.

CARE AND MAINTENANCE:
Care must be taken when cleaning your cover. It is a good idea to lightly dust your cover with a clean soft cloth first in order to prevent any particles from scratching it.
Then wipe (using a new clean soft cloth) with a good quality streak free glass cleaner.
If any questions occur during installation please contact: admin@TheProwlerStore.com
<![if !vml]>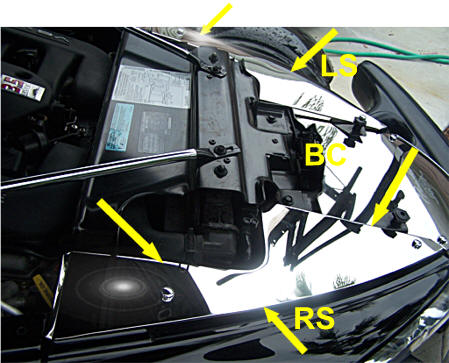 <![endif]>
RS = Right Side Inner Fender Cover; LS = Left Side Inner Fender Cover
BC = Battery Cover Sold Separately

TheProwlerStore.com is a Hot Car Accessories, Inc. site

Copyright 2005 - 2022
Not affiliated with Chrysler Corporation or it's divisions.