Opened into a New window
<![if !vml]>
<![endif]>
13721 Spring Hill Dr., Spring Hill, FL 34611
Phone: 352 688 8160 M-F EST
PROWLER REAR DECK TRIM PLATE©
PART# ACC-822005
INSTALLATION INSTRUCTIONS
Included: 1 x Stainless Trim Plate, 1 x Long Chrome Edge Molding, 1 x Test Tape Kit, 1 x Packet of Promoter Need: A helper.
Prepare surface by washing area first with soap and water to remove any dirt or grime, and then scrub area to be mounted with household rubbing alcohol let dry.

Once dry you will need to test the adhesion of the rear deck trunk surface of your Prowler. Take a piece of test tape or a piece of masking tape and stick it to area on your trunk where you will be mounting the back deck trim. Test stick it in several places. If the test tape sticks to all areas you tried then proceed to the next step. If not DO NOT MOUNT IT YET - re-clean until the test tape sticks.
Then swipe entire area once with the adhesive promoter (provided) this will help the bond. Let dry for 3 minutes.

Have someone help you with this. Each of you hold a side. This step is very critical to a proper installation. Without removing the rear red liner on your trim plate - Place it over the two oval roof catches on your trunk and line them up with the small round holes in the trim plate.
NOTE: Part of the outer ovals on your trunk deck will be covered with the trim plate it is suppose to be that way. The tiny gap in height will be covered with the chrome trim provided - See Figure 3.. (Prowlers are hand made and the dimensions from catch to catch can vary up to a 1/4" - See figure 1.)
Adjust the trim plate so that it sits evenly along the front edge about a 1/8" of an inch back from edge of the trunk lip. MAKE Careful NOTE of its POSITION. You will only have ONE SHOT at final placement.


Final Placement: You will notice 3 long strips of attachment tape running down the length of your new trim plate. Remove the red line from the center piece of attachment tape. Then create a tab by pulling just about 2" off the 2 remaining strips of attachment tape. These will be pulled off after you reposition plate to deck lid

.


A friend will be very helpful for this next step. CAREFULLY place trim plate back into the final position. Once you are satisfied with its placement pull the 2 remaining strips of red liner. Then press firmly from the center out to each edge to set

.


You have been provided with a self adhesive molding strip. Place this strip into the gap between the new trim plate and the deck lid. Starting at one side and set along the back edge removing the red liner as you go. Be sure to lay the molding as straight along the edge as possible so as not to create a wavy finish. Press firmly to set. Although the trim has been cut to length it may be necessary to trim off any excess molding using a straight razor being careful not to cut the paint.
If any questions occur during installation please call us at: Admin@TheProwlerStore.com

CARE AND MAINTENANCE:
Note: Care must be taken when cleaning your cover. It is a good idea to lightly dust your cover with a clean soft cloth first in order to prevent any particles from scratching it. Then wipe (using a new clean soft cloth) with a good quality streak free glass cleaner.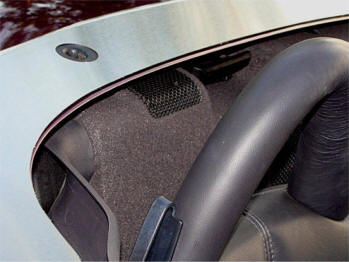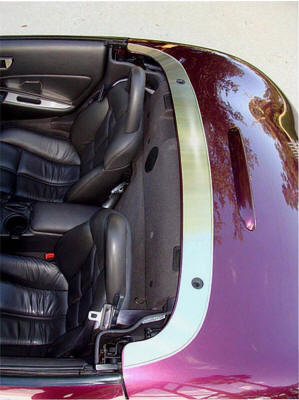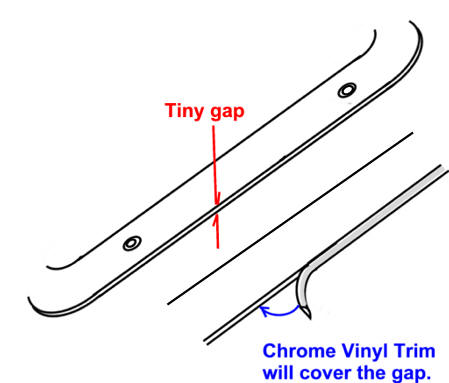 Figure 1 Figure 2 Figure 3

TheProwlerStore.com is a Hot Car Accessories, Inc. site

Copyright 2005 - 2023
Not affiliated with Chrysler Corporation or it's divisions.