<![if !vml]>

<![endif]>
13721 Spring Hill Dr., Spring Hill, FL 34611
Phone: 352 688 8160 M-F EST
Prowler High Polished Stainless Steel 3rd Brake Light Bezel ©
PART# ACC-822010
INSTALLATION INSTRUCTIONS
Included: 1 x 3rd Brake Light Bezel Trim, 1 x Promoter Pen

1. Take your Bezel out of the wrapper. Do not remove the back red tape covering.

2. Wash your 3rd Brake light with soap and water and then rubbing alcohol. Rise thoroughly and dry.

3. Take your new Bezel trim and hold it up against your 3rd Brake light. Position it as you want to permanently mount it. You will want to slightly hand bend the ends in (see diagram below) to match the slight bend in your cars lens assembly.
You can do this by trial and error. Once the trim piece follows the curve of your break light exactly and you are comfortable with exactly how it will fit move to the next step.

4. Take your promoter pen and wipe the perimeter of your 3rd brake light where the trim bezel is going to stick to. Let dry for one minute.
5. You may now take the red backing off the back side of your trim piece to expose the sticky tape. Very carefully re-position the Trim Bezel in place without touching it against the 3rd Brake light.
Once you are certain that is where you want it lightly set it on the 3rd brake light very lightly set the trim on the third brake light lens. Make any final tiny adjustments for a final fit. Once this is done, press on the bezel to secure it against the 3rd brake light.
With your fingers - press firmly all the way around the bezel to ensure it is sticking to the 3rd brake light on all sides.

6. You may even want to stick pieces of masking tape over the bezel attaching it tightly to the 3rd brake light housing to hold it in place over night. Next morning remove the masking tape. Clean the area with rubbing alcohol. You may now remove the plastic wrap off the outside of the trim piece. You're done!

<![if !vml]>

<![endif]> <![if !vml]>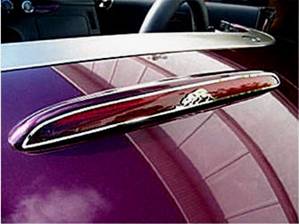 <![endif]>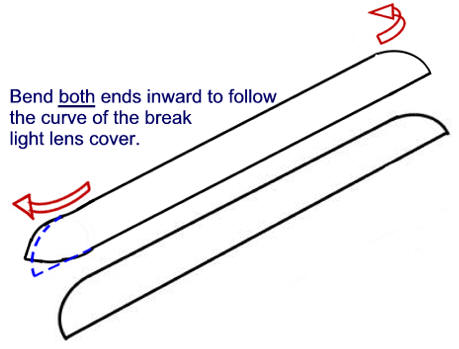 Questions? Please contact: admin@TheProwlerStore.com
TheProwlerStore.com is a Hot Car Accessories, Inc. site

Copyright 2005 - 2023
Not affiliated with Chrysler Corporation or it's divisions.