<![if !vml]>

<![endif]>
13721 Spring Hill Dr., Spring Hill, FL 34611
Phone: 352 688 8160 M-F EST
PROWLER BATTERY COVER
PART# ACC-823001
INSTALLATION INSTRUCTIONS
Parts included:
1 x Stainless Battery Cover
2 x White Nylon Sockets
2 x Chrome Button Caps
1 x (3/4" #10 Flat Head Screws)
2 x (3/4" Washer Head Screws)
1. Remove the 3 screws at the very top and front of the grille. NOTE: These screws will not be reused.
2. Replace the front center screw with the stainless flat head screw (provided) and snug down until it countersinks flush.
3. Your new cover comes to you with a protective liner. Do not remove liner until installation is complete. Cut the excess plastic hood stops at the underside of hood stop bracket. Place the battery cover over the grille area and slide it beneath the hood stop brackets. Position it so that the rear of the battery cover fits into the shallow ridge of the hood catch support bracket.
Line up the left and right hole at the front of the battery cover with the hole created when you removed the factory screws. At this time check how the cover conforms to the top of the grille. It may be necessary to remove and slightly shape your cover by hand until you achieve a nice neat fit.
Once you are satisfied with the fit place the two remaining screws (provided) thru the two white screw cover sockets (provided) and fasten.
BE CAREFUL NOT TO OVER TIGHTEN as this will dimple screw area.
Looking from the front to the rear


4. Remove the protective liner and snap on the two chrome screw caps (provided).

CARE AND MAINTENANCE: Care must be taken when cleaning your cover. It is a good idea to lightly dust your cover with a clean soft cloth first in order to prevent any particles from scratching it. Then wipe (using a new clean soft cloth) with a good quality streak free glass cleaner.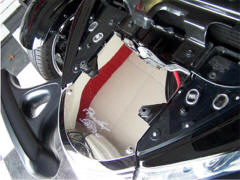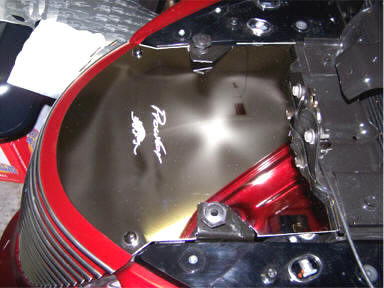 Battery Cover properly installed.

If any questions occur during installation please contact us at:
admin@TheProwlerStore.com



TheProwlerStore.com is a Hot Car Accessories, Inc. site

Copyright 2005 - 2022
Not affiliated with Chrysler Corporation or it's divisions.