<![if !vml]>
<![endif]>
Phone: 352 688 8160 M-F EST
PROWLER COLD AIR INTAKE & FILTER
PART# ACC-823018
INSTALLATION INSTRUCTIONS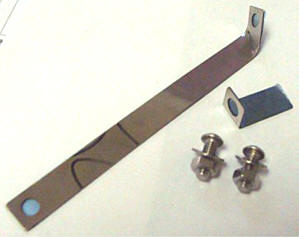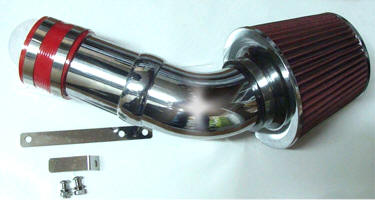 PARTS INCLUDED:
1 x Main Filter and Tube Assembly
1 x Expansion Collar w/ 2 Stainless Clamps
1 x Short 90 degree Bracket Arm
1 x Long Flat Bracket Arm
1 x 1/4" 20 Stainless Nut and Bolt
1 x 1/4" 20 Stainless Flat Washer


This cold air filter has been constructed of chrome plastic tubing which will insulate the air intake from the heat that accumulates in typical aluminum tubes.
The filter itself has been oil treated at the factory to catch the smallest contaminates thusly purifying the cool air and increasing the efficiency of the engine combustion.
Remove the passenger side body panel by unbolting the three top bolts. Then pull out the panel and then lift up and off.
Loosen the steel clamp and remove the air snorkel.
Remove the upper left hand bolt securing the main air filter box.
Jack up the front end of your prowler and secure the lift with a couple of jack stands for safety.
Loosen the air box clamp and then detach the air box from the engines crinkle tube and pull the entire assembly out from the bottom of the car.
Loosen the clamp of the crinkle tube and remove it also.
Install the new rubber collar and secure it nice and tight with the stainless clamp provided.
Slide the second stainless clamp over the collar and then insert the new filter and tube assembly. Adjust its position so that the filter head protrudes into the fender area away from the engine. Secure the position by tightening the second clamp.
Now that the filter is in place slide under the car and loosen the clamp securing the filter head. Slide the stainless L bracket so that the hole will face straight down and then retighten the filter clamp. You will notice a wire harness attached to a couple of threaded bolt stud protruding from the firewall. Remove the harness retainer closest to the new filter. Using a needle nose pliers bend the straight stainless bracket at a 45 degrees angle so that the bracket will reach the L bracket you installed earlier and this bolt stud.
Attach the long bracket to the L Bracket with one of the nut and bolt assemblies provided but do not tighten this just yet. Slip the hole at the end of the bracket you just bent to the fire wall and secure it by reinstalling the factory wire harness retainer over the bracket and onto the firewall stud. Adjust all the positions and then tighten the nut and bolt assembly.
Reinstall the factory fender to finish the installation.
TheProwlerStore.com is a Hot Car Accessories, Inc. site

Copyright 2005 - 2022
Not affiliated with Chrysler Corporation or it's divisions.