<![if !vml]>

<![endif]>
Phone: 352 688 8160 M-F EST
Prowler Stainless Steel Dash A/C Cover Plate©
PART# ACC-821013
INSTALLATION INSTRUCTIONS
Included: 1 x Dash A/C Cover Plate, 1 x promoter packet, 1 x Tape Test Kit

1. Take your Cover Plate out of the wrapper. Do not remove the back red tape covering. Just hold it up to your dash panel to see how it will fit when mounted.

2. Wash you're A/C control panel on your dash with Rubbing Alcohol vigorously. This will remove the oil on the surface. Be sure to clean every nook and cranny around the area so that your Cover Plate can get a good adhesive grip.
3. To test adhesion of the dash surface - take a piece of tape from your test tape (included) or a piece of masking tape and try sticking it to the area on the dash where you will be mounting your trim plate. Try several areas. If the test tape sticks in each area you try then go to the next step. If it does not then re-clean until it does.

4. Take Cover Plate and put it up to you're a/C control panel. Position it as you want to permanently mount it. Once you are comfortable with exactly how it will fit you may take the red backing off the back side exposing the sticky tape.

5. Take your promoter packet and wipe the entire area where your Cover Plate is going to attach.
6. Very carefully re-position the Cover Plate in place without touching it against the Dash A/C control panel. Once you are certain that is where you want it - lightly set it against the A/C control panel on your dash. Make any final tiny adjustments. Once this is done, press on the Cover Plate firmly. With your fingers press all around the surface of the Cover Plate to ensure it is sticking everywhere it touches the dash.

7. You may even want to stick pieces of masking tape over the Cover Plate attaching it tightly to the dash A/C control panel. Leave it overnight for a tight fit. Then remove the masking tape. Clean the area with rubbing alcohol.
<![if !vml]>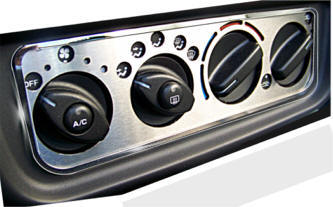 <![endif]>
Questions? Please contact: admin@TheProwlerStore.com


TheProwlerStore.com is a Hot Car Accessories, Inc. site

Copyright 2005 - 2023
Not affiliated with Chrysler Corporation or it's divisions.