<![if !vml]>

<![endif]>
Phone: 352 688 8160 M-F EST
Prowler High Polished Stainless Steel A/C Dryer Cover©
PART# ACC-823008
INSTALLATION INSTRUCTIONS
Included: 1 x Stainless Steel A/C Dryer Cover, 1 x Large Chrome Cap Cover

Your new dryer cover is designed to fit directly over the factory dryer unit by simply sliding the cover over the two aluminum lines and allowing the service port to pop up thru the top hole until the cover bottoms out on the unit.

Then just force the chrome cap cover over the factory plastic service port cap until it completely seats. If it is a little loose you want to use a little silicone adhesive to secure it - optional.

CARE AND MAINTENANCE:
Note: Care must be taken when cleaning your cover. It is a good idea to lightly dust your cover with a clean soft cloth first in order to prevent any particles from scratching it. Then wipe (using a new clean soft cloth) with a good quality streak free glass cleaner.
<![if !vml]>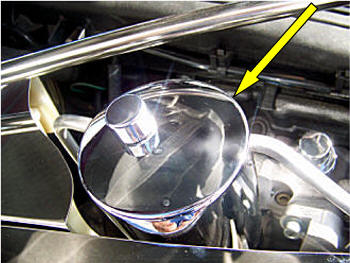 <![endif]>

Questions? Please contact: admin@TheProwlerStore.com
TheProwlerStore.com is a Hot Car Accessories, Inc. site

Copyright 2005 - 2023
Not affiliated with Chrysler Corporation or it's divisions.