<![if !vml]>

<![endif]>
Phone: 352 688 8160 M-F EST
PROWLER Rear Speaker Trim Ring©
PART# ACC-821015 (Polished)
INSTALLATION INSTRUCTIONS
Parts included:
1 x Polished Speaker Trim Ring, 1 x Adhesive Promoter Packet
Clean existing rear Speaker area first with soap and water to remove any dirt then with household Isopropyl Alcohol. Let dry.
Take your new Rear Speaker Trim Ring and place it on top of your Prowlers existing Speaker. Move it around until it is in a position where it looks best to you. The idea here is for you to become familiar with its proper placement.


Once you attach the Rear Speaker Trim Ring you will not be able to move it again without damaging the adhesive back.
Once you are satisfied with the fit remove the red liner from the attachment tape on the underside of the Trim Ring. Very carefully hold the Trim Ring over your cars rear speaker. When you are certain it is in the correct position - Press firmly to set. Push firmly along the entire perimeter edge to ensure a tight bond. It is best to let it set for 8 hours. Do not get it wet during this time.



CARE AND MAINTENANCE: Care must be taken when cleaning your cover. It is a good idea to lightly dust your cover with a clean soft cloth first in order to prevent any particles from scratching it. Then wipe (using a new clean soft cloth) with a good quality streak free glass cleaner.
<![if !vml]>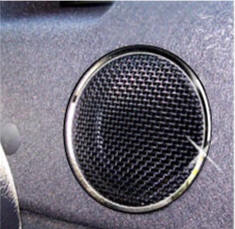 <![endif]>



TheProwlerStore.com is a Hot Car Accessories, Inc. site

Copyright 2005 - 2023
Not affiliated with Chrysler Corporation or it's divisions.