<![if !vml]>

<![endif]>
Phone: 352 688 8160 M-F EST
(1997-2002) PROWLER Luggage Rack
PART # IH-PRWLRACK
USER INSTRUCTIONS
INCLUDES: Luggage Rack with two safety pins
DOES NOT INCLUDE TRAILER HITCH. (DO NOT EXCEED 70 LB MAXIMUM LOAD CAPACITY)
NOTE: When sliding your luggage rack into your trailer hitch 1.25" receiver for the first time you have to tap it in with a rubber mallet. Each hitch is slightly different.
FOR STORAGE MODE:
Slide the luggage rack bracket into hitch receiver.
Insert ½" hitch pin and both set screws into the hitch receiver and tighten until rack is firmly secure.
The luggage rack should be vertical to the ground.
Insert and lock both ¼" safety pins into the flanges.

When adding items to carry - you will want to make sure they are carefully secured to the rack. You can use bungee cords for this.
**NOTE: You may have to adjust it slightly to start. If the luggage rack is not completely level to the ground when mounted, gently push down on the higher side until the luggage rack becomes level. Since the luggage rack is aluminum, it will remain at that adjustment until physically changed.
Reverse process to remove the luggage rack from your vehicle.
TO CARRY LUGGAGE:
Remove the two ¼" safety pins and lower the luggage rack into a horizontal position.
Re-insert the two ¼" safety pins to secure the luggage rack in the down position.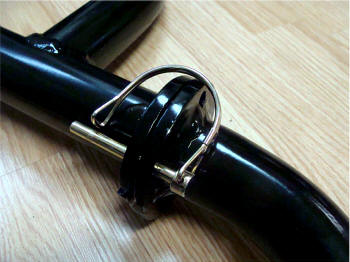 Safety pin shown BEFORE locking it. Safety pin shown AFTER locking it. Secured.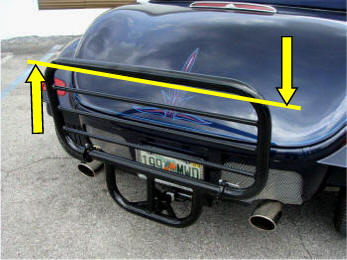 Adjusting for level: After you mount the rack for the first time you may have to adjust for level. To do this simply use your hands to carefully apply downward pressure to the side that is higher until it is level. The rack will bend slightly to y our pressure and be level when mounting it from then on.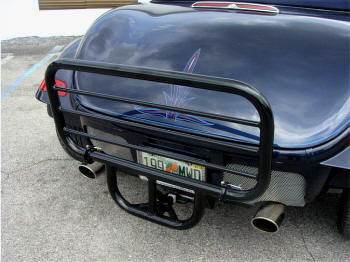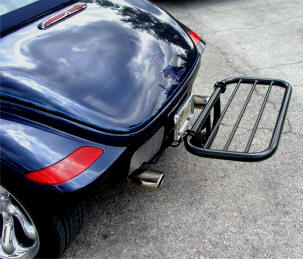 Rack in the vertical stowage position. Rack in the horizontal luggage mode.
(Above Prowler shown happens to have the rear bumpers removed. Rack will fit Prowlers with back bumpers still installed as well.)
NOTE: DO NOT EXCEED 70 LB MAXIMUM LOAD CAPACITY
Questions? Please contact us.
TheProwlerStore.com is a Hot Car Accessories, Inc. site

Copyright 2005 - 2022
Not affiliated with Chrysler Corporation or it's divisions.