<![if !vml]>

<![endif]>
13721 Spring Hill Dr., Spring Hill, FL 34611
Phone: 352 688 8160 M-F EST
Prowler 97-02 DELUXE Rear Wind Screen Wonder Deflector©
PART# ACC-822039
INSTALLATION INSTRUCTIONS
Parts included: 1 x Wind Screen Unit
Your new Wind Screen has been designed to be manually flexed onto the rear deck lid of your Prowler. It is this flex that builds the stability of the Wind Screen forcing it to resist vibration when driving.
Tech note: Do to the nature of the installation of your new Wind Screen it is strongly recommended that two people remove and install this accessory in order to insure a safe and easy installation.

1. Before you begin make sure that the padded side (at the bottom connection points) of the Wind Screen faces towards the rear of the vehicle. Using the help of a friend flex the Wind Screen so that the two pins align with the two mounting holes in the deck lid. Your Wind Screen is made of a space age polycarbonate material and will not crack snap or brake during this procedure. Continue to flex the unit as you push the pins down into the deck lid until they latch allowing the two long notches to slip over the round corners of the deck lid.
Note: Care must be taken when cleaning your cover. It is a good idea to lightly dust your cover with a clean soft cloth first in order to prevent any particles from scratching it. Then wipe (using a new clean soft cloth) with a good quality streak free glass cleaner.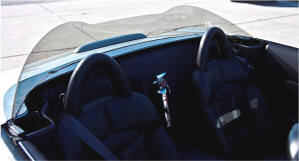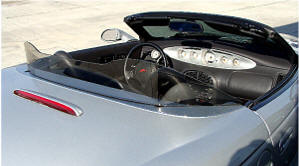 Questions? Please contact: admin@TheProwlerStore.com

©Copyright 2005 - 2022

TheProwlerStore.com is a Hot Car Accessories, Inc. site

Copyright 2005 - 2022
Not affiliated with Chrysler Corporation or it's divisions.