<![if !vml]>

<![endif]>
13721 Spring Hill Dr., Spring Hill, FL 34611
Phone: 352 688 8160 M-F EST
Prowler High Polished Stainless Steel Transmission Cooler ©
PART# ACC-ACC-822037
INSTALLATION INSTRUCTIONS
Parts included:
1 x Transmission Cooler Cover
4 x 3/4 Self tapping washer head screws
2 x 5/16 x3/4 bolts
2 x 5/16 flat washers

1. Before you place your new cover into position take a look under the car to see if your model contains four threaded holes located on the rear frame rail. These holes would be intended for the factory prowler trailer hitch option. If your prowler has these four threaded holes your new cover has been designed to make use of the two outer whole locations.
If your model contains no holes then you will need to pilot them with the "self tapping screws".

2. Place your new cover over the transmission cooler so that the cover will clip over the back of the coolers mounting bracket.

3. Align the cover with the factory holes on the aluminum frame rail and attach the cover by installing the two 5/16 bolts and washers provided. Remove the protective liner.

4. If your prowler has no holes in the frame rail then simply pilot the four holes in the mounting tabs to the frame rail using a 9/64 drill bit. Once complete attach the new cover using the four self-tapping washer head screws provided.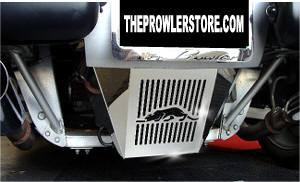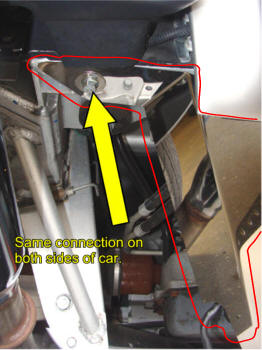 Note: Care must be taken when cleaning your cover. It is a good idea to lightly dust your cover with a clean soft cloth first in order to prevent any particles from scratching it. Then wipe (using a new clean soft cloth) with a good quality streak free glass cleaner.

Questions? Please contact: admin@TheProwlerStore.com

©Copyright 2005 - 2021

TheProwlerStore.com is a Hot Car Accessories, Inc. site

Copyright 2005 - 2021
Not affiliated with Chrysler Corporation or it's divisions.