<![if !vml]>

<![endif]>
P.O. Box 6259, Spring Hill, FL 34611
Fax: 352 666 4141
Prowler Bumper Vinyl Logo Emblems
Parts: GC-CS-Prowler & GC-CS-Plymouth
INSTALLATION INSTRUCTIONS
Included: Bumper Logo Emblems for Bumper

1. Wash area where you are going to mount the emblems first with a cleaning solution like Windex. Then scrub with a rough pad with rubbing alcohol. If you are mounting the letters in the Bumper recessed Letters then it will help with mounting if you rough up the inside of the indented bumper letters with a piece of sand paper or something. This will make the surface better grip the emblem letters you purchased.

2. Once the surface is cleaned of all oil (including finger oil) and roughed up a little you can begin to mount them. Take the pen of promoter included and snap the center to break the glass ampoule inside. Press the spongy end against the surface a couple of times to get the liquid promoter flowing. Once it the spongy end is moistened apply to all areas where you are to mount your emblems. This is a clear liquid that will not hurt your cars surface. It prepares the surface to bond with the tape on the back of the emblems.

3. Peel the top clear film off one emblem. The emblem letters should now be stuck to the white backing material. Peel off one letter at a time and place in the corresponding indented bumper position. Set in lightly at first. make any final adjustments for fitment. Once you are satisfied press down firmly along the top surface of the letter to secure it to the bumper. Let dry and do not wash car for 2 days.

4. Repeat procedure for each emblem.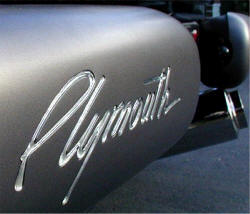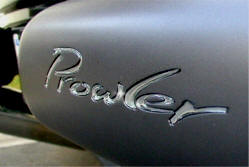 Questions? Please contact: admin@TheProwlerStore.com
TheProwlerStore.com is a Hot Car Accessories, Inc. site

Copyright 2005 - 2023
Not affiliated with Chrysler Corporation or it's divisions.