Product Number
Prowler Product Name & Description
Prowler Product Photos
(For additional photos of products Click on Photo)
Unit/set Price
Shipping within Continental USA
US-PR-CMS-SO
Plymouth Prowler Custom Front Floor Mat Set (Drivers and Passenger Mat)

Make your own mat design with these very high quality after market mat sets. Stand out from the crowd with your choice of colors. These mats are specifically designed for your Prowler.
Mat shape may differ some from photo. They are not the same shape as the stock mats.
Mat and thread color may vary slightly from color you see on your computer screen and not designed to match any particular car color.

Choose Mat color:

---
Choose embroidered thread color for Prowler Logo (Kat & Word "Prowler")
Red, Med. Blue, Purple, Neon Purple, Orange, Yellow, Neon Yellow, Black, Silver and Gold.

See ALL the Logo Colors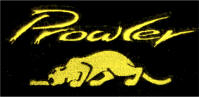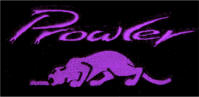 12" x 5" Emblem Size

Specifically designed for the Prowler




See Photos of Mat Colors & Logo Colors

All customer Mats are Special Order
(Not returnable)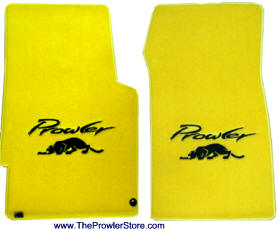 $ 169.95
Custom Order
NOT Refundable
3 weeks delivery
If you are having trouble ordering online: Please call us at 352 688 8160
$ 22.95
Oversized


UPS Ground

We welcome our many Overseas Customers!
More Shipping Info
Click Here


PFM7432
Brand NEW Plymouth Prowler Factory Original Mat Set - Choose Colors still available
for all years (1996-2002)
Discontinued by Chrysler

New in original packaging, mats are made of plush dark gray carpet with heavy duty rubber nibbed backing. Features Prowler Logo embroidered stitched in purple on each mat. Same as what they came with...Dress up your Prowler, or get an extra set for later just don't miss this one....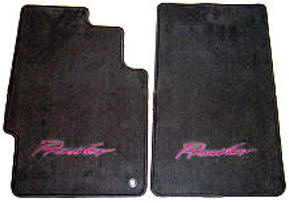 $ 119.95

15% Restock Fee on Returns

Return Policy
1-2 Week Delivery
If you are having trouble ordering online: Please call us at 352 688 8160
$ 19.95
Oversized


UPS Ground

We welcome our many Overseas Customers!
More Shipping Info
Click Here